We are a group of
Opportunities
We believe that valuing different ideas at all levels is a principle for business and people development. We work to create an empathetic and inclusive environment, where everyone has the opportunity to collaborate towards our purpose: helping the world to reduce its carbon footprint and accelerating the best of Brazil. That's why we want people to have the freedom to be authentic and participatory.
We are a diverse, engaged and talented group with a 'team spirit'. We want to make the difference.
We take care of our people, develop the communities in which we operate and protect the environment. We are proud to leave a legacy for society.
We love challenges, we make decisions and assume responsibilities, always with ethics and transparency. We are ambitious and always strive to go the extra mile.
Being part of Prumo is to experience challenges in a culture where growth and opportunities go hand in hand. It means working alongside excellent professionals, inspiring people who are references in their fields."
Mauro AndradeExecutive Director of Business Development
Working at Grupo Prumo allows me to be part of the construction of a future that can positively impact society. Here, I am passionate about my challenges, and I feel inspired to do my best, always in search of excellence!"
Thamara ChedidStrategic Planning Analyst
I am very proud to work at Prumo because the company is committed to promoting the sustainable development of its businesses and employees as well, under principles such as integrity, authenticity, collaboration, entrepreneurship, and appreciation of diversity and inclusion."
Thaiza AbreuHuman Resources Specialist
We value diversity & inclusion
 For us, Diversity & Inclusion drive competitiveness, innovation and business prosperity, which positively transform the reality where we operate.
Here, we are genuinely authentic. We talk about the things that matter and make difficult decisions, always respecting the diversity of ideas and opinions. We value everything that is genuine, offering a totally open space where you can be yourself.
We are a great place to work! We won the GPTW label in 2021 and 2022!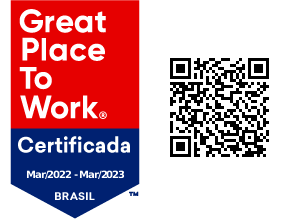 We have modern spaces, where the future is already present in flexible work formats adapted to what's coming next. We prioritize our team's health, well-being and recognition through a broad package of benefits and creative environments that foster synergy and collaboration among colleagues and teams.